Labriola Ristorante & Cafe - Chicago
On Chicago's Near North Side, in an area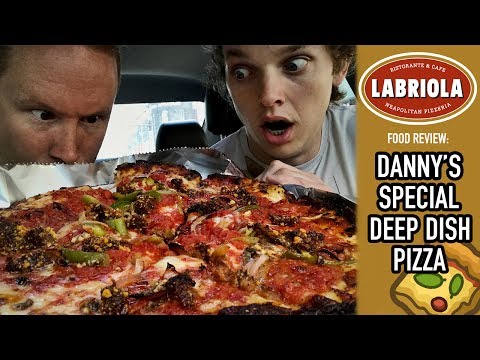 that boasts what is likely Chicago's (i.e., the world's) richest selection of restaurants serving deep dish pizza, Labriola Ristorante & Café stands at the forefront.
In Chicago broadcaster/author Steve Dolinsky's book "Pizza City, U.S.A.," he writes that Labriola Ristorante & Café offers "a deep-dish pizza that both tourists and picky locals like me actually crave," a pie with "generous chunky icebergs of fresh tomato lightly seasoned with fresh herbs; fragrant, juicy, jagged-edged pieces of sausage…a caramelized, darkened thin layer of cheese…crispy all the way around."
Deep dish is, indeed, what draws many people to Labriola Ristorante & Café (as they do to Uno's, Due's, Pizano's and many deep-dish purveyors in the neighborhood). Labriola, however, stands out from the rest for the quality of their ingredients and the skill of the chefs. It is a beautiful pie, but it is just one of the excellent examples of the pizzamaker's art available at Labriola, which also features many other outstanding menu items.
Labriola offers a large selection of Italian favorites, served in a pleasant and attractive café and larger dining room area. Standouts include Chicken Vesuvio, a dish invented in Chicago in the late nineteenth century, featuring a double breast of chicken, fresh peas, and roasted potatoes in a white wine and roasted garlic sauce – this is a bite of Chicago you won't likely find at other local deep-dish pizza restaurants. Also highly recommended is the Braciole, an Italian American favorite of braised short rib in a red wine demiglace, served over pappardelle with Parmesan cheese.
There are a number of fish offerings as well, and if you're going light, we recommend starting with the all-vegetable salumi with herb-chili olives, roasted red peppers, marinated artichokes, thyme-roasted cauliflower, broccoli florets and fresh fennel. For your veg-forward entrée, there are a lot of salads, including Classic Caesar and Fresh Hearts of Palm, that pair excellently with a pizza (get one as a side and share with your dining partner).
Of course, most people come for the pizza. Labriola Ristorante & Café offers deep dish in the traditional format, but also as a Meatball Pie (meatballs, whipped ricotta, garlic, fresh basil) and White Deep Dish (bechamel Sauce, chicken, bacon, and caramelized onions). Of if you'd prefer to go thin crust, there are many options in addition to the classic cheese and sausage, including BBQ Pie (chicken, onion, smoked bacon, and cilantro) and Richie's Italian Beef (a marriage of two of Chicago's most famous foods). Signature artisan pies include classics like the Margherita and Quattro Formaggi.
For food this good, a good wine is required, and Labriola Ristorante & Café offers a number of reds and whites by the glass, quartino or bottle, all very reasonably priced – and prices for wines and cocktails get even better at Happy Hour (Monday-Friday, 3pm – 6pm).