Bambola - Chicago
Bambola is a recent addition to the Bonho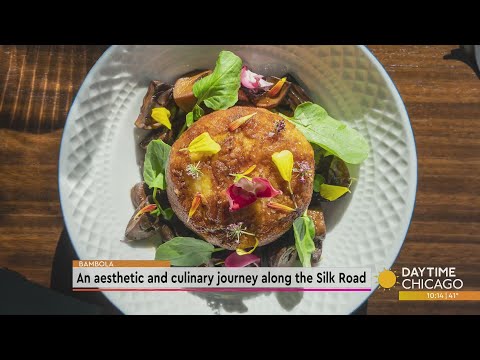 mme Hospitality Group's restaurant portfolio, joining others like Porto, Beatnik, Bordel, Disco and Celeste. Bombola is "an aesthetic and culinary journey along the Silk Road" that taps into "the shared cultural heritage that spans from Asia to Europe."
Historically, the Silk Road was a network of trade routes connecting Europe and Asia during the second to the fifteenth centuries. The Silk Road allowed West and East to join together to share ideas, inventions...and food. This confluence of Western and Eastern cultures has powerfully influenced the dishes served at Bambola.
Polenta + Mushrooms is the first dish on the Bombola menu, and it combines the Italian polenta (corn meal) with Asian soy-brined egg yolk and shiitake mushroom. Carrots are prepared with smoked eggplant labneh from the Middle East, crispy garbanzos from Italy and Kalamata olives from Greece.
From the Pastures + Courtyards section of the menu, there's Xi'an Fried Chicken Baos, with Turkish black lime and Szechuan pickled carrots, served on a bao bun. Dumplings XO are a delightful concoction of spiced lamb, smoked shakshuka, and mint za'atar in a Parmesan XO sauce.
In the area of beverages, the Robb Report reports, "the touchstones found in Bambola's food are just as prominent in the drinks, whether that's a cocktail or a glass of wine. Cocktails such as the Sumac (tequila, peated scotch, fermented orange, beet, sumac and lime) and the non-alcoholic Rose (rose, red shiso and lime leaf) combine ancient flavors in a nod to local beverages found along the Silk Road. The wine list, created by Michelin Sommelier of the Year Colin Hofer, travels the same path, offering bottles from countries like Lebanon, Georgia, Croatia and Slovenia."
Bombola transports diners to another time and place. The furnishings, tableware and works of art that surround you, along with the food, transports you to the ancient world with updated cooking techniques that are an adventure of their own.