Alla Vita - Chicago
In late 2021, with a string of hit restau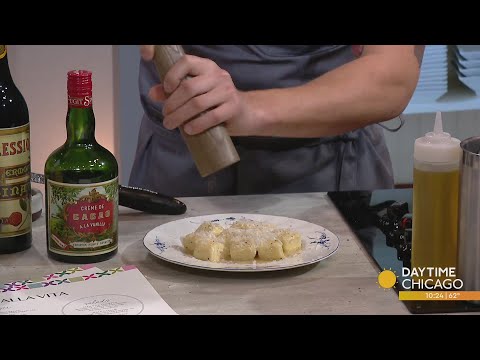 rants -- Girl & The Goat, Swift & Sons, and many, many others -- The Boka Group opened Alla Vita, a venture into a place serving traditional Italian red sauce dishes...with many creative innovations. Given the track record for this amazing restaurant group, you can count on them to push the boundaries of the Italian culinary tradition.
While staying faithful to the simple roots of Italian cuisine, Chef Lee Wolen and Chef de Cuisine Darren Underway tweak tradition with innovative additions that make the dishes at Alla Vita sing with both authenticity and originality.
Starting with one of Italy's most famous starters, the arancini -- traditionally a fried ball of breaded rice with a center of sauce, peas and beef -- are at Alla Vita are dressed up with n'duja, the spreadable salami that's currently having a moment, and fennel pollen, for a new level of subtlety in a well-known favorite.
Ricotta and dumplings seem pretty simple, but the dish becomes more textured and complex when done up in the style of traditional cacio e pepe, a sauce of cheese and lots of pepper that brings together two classics for one fantastic dish.
The soppressata pizza leverages the deliciousness of the popular sausage, enriched with tangy provolone, sweetened with honey and heated up with a little (but not too much) Calabrian chili; it's awesome.
As a side, you should try the mushrooms done up in a bagna cauda, a "hot bath" of garlic and anchovies, kept warm in a kind of chafing dish, delivering a major blast of hugely pleasing umami deliciousness.
Though avoiding meat-heavy options, Alla Vita is big on veg and fish, and the sea bream served whole is a masterpiece of cross-cultural culinary invention, dressed with Castelvetrano olives, salsa verde (thanks, Mexico) and raisins!
There are many wonderful cocktails, and a favorite is Under the Pergola, with tequila, Aperol and salted rosemary.