The Albion Manor - Chicago
The Albion Manor and The Parlour are a ne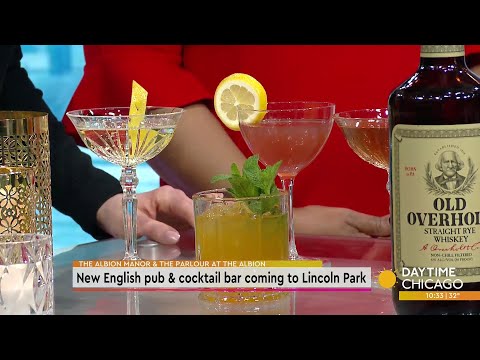 w one-two dining and drinking punch that will knock you out with outstanding British pub food and marvelous cocktails. The Albion Manor is a classic pub with a long bar, individual snugs and footy (soccer) on the telly; The Parlour is a laid-back cocktail lounge with a sophisticated, low-light vibe.
The food served at The Albion Manor represents an excellent introduction to British pub favorites. Start with a Ploughman's Plate, a generous platter of meat (sausage and pate), cheese, pickled egg, marinated tomato, chutney, and a hunk of baguette, a kind of English charcuterie plate meant to be enjoyed with the hands and in a group. Fish and Chips is the classic dish of fried cod and fries, and Chef Mark Hill does it up right with very high-quality fish and crisp, house-cut potatoes.
If you'd prefer a lighter meal, there's a meatless "vegetarian edition" of the Ploughman's Plate, with hummus and broccolini. in fact, there's an entire Veggie section of the menu with Rocket (arugula) Salad and Yorkshire Pudding, baked in house with spiced blackberry butter. The Charred Chicken Wings are a local favorite, as is the Jerk Chicken Sandwich with house-made pickles, and you're going to really like the Albion Sausage Sliders, with several sausages prepared in-house by Hill.
There are some sweets for after dinner, including Spotted Dick, a traditional English pudding with a creme Anglaise sauce -- don't be embarrassed to order it: it's a delicious way to end a brunch, lunch or dinner in The Manor.
The Parlour is a beautifully appointed space upstairs of The Manor, offering cocktails overseen by Beverage Director Sarah Syman who in 2021 received Star Chefs 2021 Rising Star recognition. Syman and her crew bang out some superb cocktails, including English Classics like the gin and tonic but also "historical" cocktails like the Lavender Lady (London dry lime gin, Curaçao, cassis, lemon juice, egg whites, lavender bitters) and "craft" cocktails like the At King's Manor (Blended scotch, aged rum, Pedro Ximenez, Crème de Banane, black walnut bitters).
For a quick drink, or dinner, or dinner and a drink, there are different spaces to choose from at The Albion Manor, and a lot of exceptional food and drink to make you very happy.