Soulé - Chicago
Soulé is the first fine dining restaurant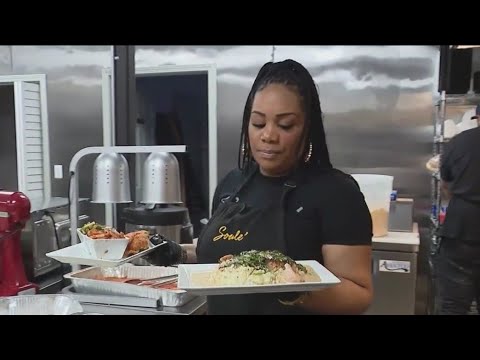 of its kind to locate in south Lawndale...in the past fifty years. Owner and chef Bridgette Flagg started her restaurant in Ukrainian Village, then moved to south Lawndale to an even bigger space.
In the Chicago Tribune, Louisa Chu explains what it's like to walk into Bridgette Flagg's new -- and newly constructed -- restaurant: "The crisp dark structure opens up in front with floor-to-ceiling windows. Glass garage doors can open fully when weather permits. For now, a long modern fireplace warms the lounge area. A full bar lines the wall alongside. An airy dining room leads up to a mezzanine, with a neon sign radiating the message: Believe in Yourself."
Flagg has been getting a lot of praise for her southern/creole cooking, and many have singled out her fried green tomatoes, which seem to be the star of the starters list, which also includes tempting options like jerk shrimp and New Orleans style BBQ shrimp, cajun salmon bites, creamy garlic shrimp and jerk or BBQ jerk wings. You could pretty much just stick to the starters and be very happy...but most of us want to go further and sample some of the outstanding southern-style entrees.
Standout main courses include shrimp and grits in "special butter sauce," garnished with green onions; three pieces of southern buttermilk fried chicken "seasoned to perfection": fried catfish served "your-way fillet"; and grilled lollipop lamb chops seasoned with special sauces.
"My people deserve luxury," Flagg said. "Maybe other people will follow, and eventually we'll be like Ukrainian Village and have a bunch of small businesses up and down Roosevelt," and as the Tribune reports, "For now, if you head west on Roosevelt Road, Soulé stands alone. People thank her for coming to the neighborhood."