Kyuramen - Chicago
Kyuramen, as the name implies, is a place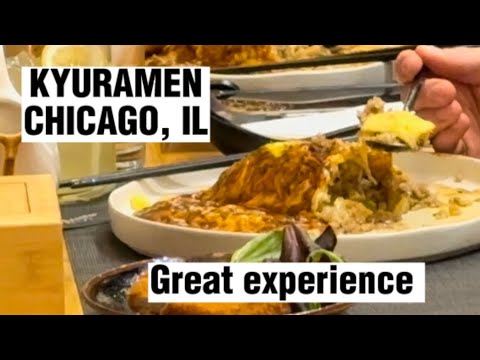 for ramen, with locations across the country and around the world. In Chicago, Kyuramen teams up with Tbaar, which offers a range of flavorful and fun bubble teas.
As reported in Chicago Eater, "Kyuramen has in recent years flourished into a prolific chain of franchise restaurants with more than 120 locations in Japan and the U.S. It first landed in Illinois in April 2022 with the debut of an outpost in suburban Oak Park, but [Tony] Hu is the first restaurateur to bring Kyuramen to the city proper."
Chicago now has its own Kyuramen, which is the place to go in the Loop area for ramen, the Japanese soup that continues to enjoy great popularity. And at Kyuramen, you have a number of different ramen soups to choose from.
The #1 ramen on the menu is Tokyo Tonkatsu, with fried pork cutlet afloat in a bowl of pork broth with bamboo shoot, sea greens, marinated egg, nori, corn and scallion.
There are eight more standard ramen bowls, many with the same basic ingredients and some kind of pork preparation, like tonkatsu or chasu (braised pork).
To snack on or simply to start into a lunch or dinner of ramen, there's the extremely popular popcorn chicken, an excellent way to begin a meal with a shared bowl (or a not-to-be-shared bowl if you've had this chicken before... because then you know you're going to want it ALL).
Omurice is a Japanese dish that's lesser known than ramen but no less delicious; it's a fluffy egg omelet placed on top of chicken or pork fried rice, topped with curry sauce or a demi-glace.
Although no alcohol is served, there is a range of Tbaar bubble teas, a sweet and refreshing contrast to the full-flavored ramen.