Daisy's Po' Boy and Tavern - Chicago
Chef Erick Williams, owner of Virtue, Mus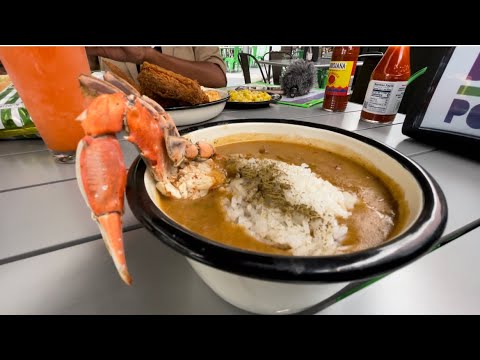 tard Seed and Daisy's Po' Boy and Tavern is on fire, opening restaurants that consistently win local and national acclaim. The latest, Daisy's Po' Boy and Tavern, is creating ripples throughout the Chicago dining community with soulful southern cooking that's finessed and presented with fine-dining attention to detail.
Chef Williams describes his food at Daisy's Po' Boy and Tavern as "Up-South," and his site explains "Daisy's is affectionately named after Chef Erick Williams' late Aunt Daisy who married his Uncle Stew, a man with Louisiana roots and a passion for good food. Daisy and Stew shared 49 years of marital bliss and forever changed the way that Williams would see Cajun and Creole meals."
So, what do these "Up-South" dishes look like?
The Barbecue Gulf Shrimp Po' Boy heads up the menu, and it's simple and simply delicious, with basic accoutrements like lettuce, tomato, mayo, pickles; coming in at either 6 or 12 inches, it's proof that high-quality ingredients, however simple, treated with respect and skill, can yield superb results. The other po'boys of shrimp, sausage, roast beef, catfish, fried green tomato and fried oysters are similarly prepared, without a lot of fuss, but with a lot of passion...and deliciousness. For the more adventurous, there's alligator and Peacemaker, which is a combo of oysters and roast beef (to make peace among those who prefer seafood and those who prefer meat).
If a sandwich is not what you're going for, there is fantastic fried chicken, greens, gumbo and biscuits.
Eater Chicago reports, "All hail Chef Erick Williams. As a South Sider, I love Williams' dedication to the Hyde Park community and to the joys of a fabulous meal in good company. His latest, Daisy's Po' Boy and Tavern, is inspired by his aunt and uncle's passion for food and family, and we all get to benefit. The fried chicken and biscuits are a joy but frankly, Daisy's had me at fried oysters."