Vive Le Chicago French Market!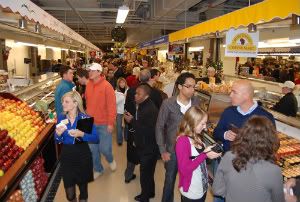 (Photo: Kurman Communications)
As a Francophile who spent a semester in Southern France in college, I love all things that remind me of Europe's most beautiful country (again, I'm biased). Impressionist art, the scent of lavender, and of course, French food and wine, bring a warm and fuzzy feeling to this sometimes cold, Chicago-bred heart. So it should come as no surprise that the Chicago French Market is one of my new favorite things. Sure, a lot of the vendors specialize in non-French foods, but the sushi, tacos and raw foods only add to the international personality that has come to define the Chicago food scene. Although it opened in December, new vendors continue to be added, and the market was just named the Best Redevelopment Project of 2009 at the Chicago Commercial Real Estate Awards. A few vendors to check out on your next trip:
Pappardelle's Pasta: The Market's newest vendor, Pappardelle's specializes in handmade pastas ranging from garden spinach angel hair to dark chocolate linguine. The shop also sells sauces, pesto, bruschetta, oils, vinegars and marinades. This is the pasta maker's first permanent Chicago location. Benvenuto!
Zullo's: Another new Italian vendor, Zullo's is known for its handmade apple cider doughnuts and Fiadoni (pies filled with meat, veggies or fruit). Other Italian specialties include pizzas, pastas, paninis and pastries. I may be partial to France, but I have yet to turn down any Italian-style carbs that come my way.
Frietkoten Belgian Fries & Beer: The name says it all. Straight from the Netherlands, this "fry shack" sells hand-cut Belgian fries in a paper cone with your choice of up to 20 sauces. Pair this delicious treat with a Dutch or Belgian beer.
RAW.: This vendor's menu of 100% organic, vegan and, as the name suggests, raw foods includes salads, pizzas, pastas, muffins and super-food smoothies. The owners teach a health-awareness class about the benefits of incorporating raw foods into your diet.
Vanille Patisserie: Back to France, this award-winning pastry shop combines European traditions with modern flavors. After five purchases of their handmade chocolates, cakes, candies and macaroons, you get a free croissant. Bon appetit, indeed.
For more information about the Market and to see a schedule of upcoming events, visit the website.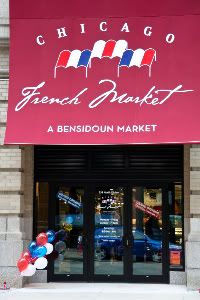 (Photo: Kurman Communications)