The Best Food Fests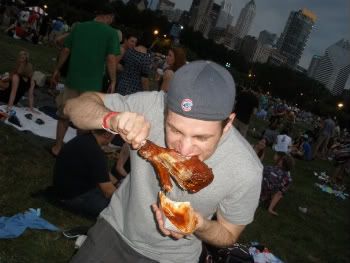 (Taste of Chicago turkey leg; Ellen Banakis)
With at least three festivals every weekend from now through Labor Day, how can you possibly choose which ones to go to? At DiningChicago, the choice is easy: Pick the ones with the best food. Use this handy guide to ensure you'll have quality grub to soak up all that overpriced beer--and never get stuck eating a soggy corn dog again.
June 18-20: This weekend is a tie between Taste of Randolph Street and Festa Pasta Vino. Taking place on one of the city's best restaurant streets, Taste of Randolph gives festival goers their choice of high-class global cuisine from Vivo, La Sardine, Veerasway, Market, one sixtyblue, Wishbone and more.
For authentic Italian fare--and plenty of wine to go with it--head to South Oakley Street in Chicago's Little Tuscany neighborhood for food from nearby restaurants Il Vicinato, Miceli's Deli, Bacchanalia, Ignotz's and La Fontanella. Culinary demonstrations are also on tap.
June 25-27 and July 2-4: Yes, the tickets have gotten pricier in the last few years. And yes, it's usually unbearably hot and crowded. But with more than 50 vendors dishing out Chicago favorites like Italian beef, deep dish pizza, cheesecake and the infamous turkey legs, Taste of Chicago is the obvious choice for both of these weekends. New vendors Bobak's Sausage Co., Cubby Bear, Iyanze, Pegasus, Timothy O'Toole's and more join Fest staples Adobo Grill, Billy Goat Tavern, Eli's Cheesecake, Garrett Popcorn Shop and Vienna Beef for the annual pig-out extravaganza.
July 10-11: New this year, Roscoe Village Burger Fest features--yes--burgers from neighborhood favorites Mrs. Murphy & Sons Irish Bistro, The Village Tap, John's Place, Select Cut Steak House and The Bad Apple, which currently serves the city's most expensive burger once a week--the Wagyu Wednesday ($26).
July 17-18: Some of the posh neighborhood's best restaurants will turn out for the Taste of River North, including Ai Japanese Restaurant and Lounge, Kinzie Chophouse, La Madia, Mercadito and Zocalo.
July 24-26: A good weekend to go out of town, or eat before or after heading to the Randolph Street Market Festival or Taste of Lincoln Avenue.
July 31-August 1: The vendor list for Wicker Park Fest is still TBA, but here's hoping Damen Avenue hotspots Big Star, The Bristol and Duchamp get in on the action this year.
August 6-8: Graham Elliot Bowles--of graham elliot and the highly anticipated grahamwich--is on a mission to get more local chefs to partake in Lollapalooza's Chow Town. Keep your ears peeled for who's going to join him this year. For those not willing to spend north of $200 for the massive music fest, Taylor Street Italian Festival will be serving up Italian eats from the likes of Rosebud, Tuscany and Francesca's.
August 15: One day only, the 104th annual Croatian Fest is worth the trip to Bridgeport for a taste of the 100 whole lambs and pigs roasted on a spit, and other Croatian treats.
August 28-29: As the name suggests, the Taste of Greece features fare from many of your favorite Greektown restaurants.
September 3-6: End your fest-filled summer with a true Chicago tradition, the Taste of Polonia. Polish sausage, pierogi, sauerkraut, kabobs and more anchor the Polish-centric event, which has been called the largest ethnic fest in Chicago.