Fresh Meat trois
Piccolo Sogno – Italian
Chef: Tony Priolo
464 N. Halsted Street
($$$)
Chef Tony Priolo and partner Ciro Longobardo, both formerly of Coco Pazzo, named their joint debut restaurant
Piccolo Sogno
or 'little dream' in Italian. A little dream that began for a little Priolo, at eight years old, cooking in the kitchen with his Sicilian grandmother.
Redesigned in the old Thyme space, Piccolo Sogno's sanguine patio is nestled in a rosemary-studded yard with a fig tree. Every table books, night after night, with known Chicagoans such as Mayor Daley and friends. Piccolo Sogno's patio is a little dream in a large elegant garden. Funny that Piccolo Sogno is adjacent to the intersection of Grand and Halsted and the wild atmosphere of Richard's Pub and the Funky Buddha Lounge.
The interior is a grand scene. With an Italian marble bar, Mediterranean blue walls accented by chandeliers from the Venetian glass-making island of Murano, and several Tony Bennett look-alikes. The seasonal menu is a succinct page of rustic dishes in the classic assortment of insalata, antipasti, pasta, pizza, secondi and contorni. The all-Italian wine menu is more like a large compelling textbook.
Start with the cecina fritta - chickpea-flour fries dusted with parmesan and rosemary. Or the exotic ocean tour of griglia mista - wood grilled calamari, shrimp, octopus, arugula, lemon and caper infused olive oil. A seafood lover's own piccolo sogno. The wood-fired pizzas arrive at the table thin, crispy and artistically topped.
Conclude with hazelnut and smooth chocolate semifreddo or the ricotta tart with flaky top dusted with powdered sugar and the largest raspberries on earth. The menu at this West Loop socialite scene is fairly priced - since anything better might cost a flight to Italy.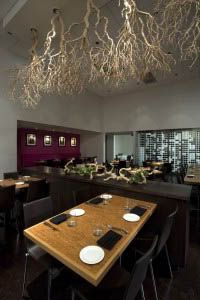 Province – Contemporary American
Chef: Randy Zweiban
161 N. Jefferson Street
($$)
If you love the menu at Nacional 27 do not miss Province; but do not confuse the two. Designed by the same chef, Randy Zweiban, N27 is Latin cuisine and Province is first and foremost American food, inspired by the southern hemisphere with masterpieces such as rabbit confit with marcona-almond emulsion.
In a green-friendly LEED certified West Loop building, Province unfolds in an airy light space. Focus is drawn to a deep pink accent wall (it works - and not in a Sex & the City style) with soft eggshell trim and the largest painting of white eggplant I have never seen, blending beautifully with the sand and pale brown hues of reclaimed cork wooden tables and chairs.
Entrees broadly range from chimichurri-rubbed flatiron steak with garlic-roasted rapini to hamachi sashimi with serrano chilies and sea salt. Dessert at Province is exceptional and it should not be an issue of "if" you save room. Just save room, please, and sample the artisanal cheeses, chocolate rum shots, Intelligentsia coffee, teas, tartlets, sorbet, chocolate flan and dulce de leche. Uh, yes please.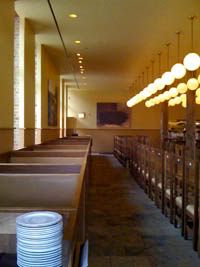 the Publican - Contemporary
Chef: Paul Kahan
837 W. Fulton Market
($$)
Avec and Blackbird expanded their family this year with the award-winning Publican -named Chicago Magazine Best New Restaurant 2009.
Executive chef Paul Kahan and some of Chicago's brightest night lifers from the Violet Hour and Sonotheque bring a new hotspot to West Town. Already, people seem to love mentioning if they have recently been there.
Publican's upscale pub menu focuses on bold elements like foie gras, veal, smoky duck, suckling pig and impossibly fresh seafood. Such as Lindeman's Gueuze Cuvee René-steamed Bouchot mussels from a vendor with a 10-year waiting list. The earthy appeal of the menu at Publican - printed daily based on season and market catches - and the sallow colors, artwork and natural woods present you with a wholesome effect.
Like Avec, the menu features sharing plates. The pork rinds ($5) are unstoppable as are the frites with addictive aioli and the charcuterie plate of game bird terrine, morteau sausage and headcheese.
Publican approaches beer as if it were champagne. Featuring rarities like the Dutch trappist brew and La Trappe Koningshoeven Quadrupel. With an 80-count bottled beer menu, including gueuzes and lambics available in specialty flights, there is endless potential for food-brew pairings.
Do your best Henry VIII chewing on duck, pork shank and handles of fresh bread, lifting large mugs of hoppy trappist brew in the stately, wooden thrones at the Publican.
Rustico – Mexican
Chef: Raul Arreola
2515 N. California Avenue
($$$)
The only things Rustico has in common with Frontera Grill and Mixteco is Raul Arreola, authentic Oaxaca-inspired entrees and loyal foodies that cannot get enough of the menu. That's about it.
Inscribed calabash chandeliers hang from oak ceilings, stone-stacked walls are accented by fresh lime hues. In the center, a tropical biosphere is enclosed in glass. You can't really call the décor modest yet it doesn't yelp for attention either. Take notes Rainforest Café. As the sudsy house margaritas do their thing and sizzling dishes arrive, the surrounding natural elements and beautiful panache infuse the experience with exotic flavor.
The street-front patio is a sublime setting to test drive the moles and dine on grilled tiger shrimp with sweet garlic sauce and poblano cream. Or wood-grilled rib eye with cubes of avocado and queso fresco.
The tequila. Sweet, delicious, Mexican, hibiscus flavored... tequila. Suck down – or fine just sip - an exquisite reposado, blanco or anejo from the tequila list. My recommendation: Flor de Jamaica: hibiscus flower syrup, Patron Silver tequila, limejuice and club soda, $7.
SugarToad – American
Chef: Jimmy Sneed
2139 CityGate Lane
Naperville
($$$$)
Despite Jimmy Sneed's nationally renowned culinary career he does with away contrived airs, pretension and parsley - after all who eats it?
Sneed is well known for designing entrees focused on ingredients, extraordinary preparation and plate presentation that gives an illusion of modesty. His famed crab cake dish looks as if a phantom swiped all the garnish and sauces from the plate leaving only the crab cake. Pierce the crab cake's center with a fork to find all the good stuff in this southern, simple classic. Even the seared scallop appetizer with sautéed leeks and lobster corral sauce or sweetbreads with smoked chicken fricassee and meaux mustard sauce have a humble appearance.
Sneed adds extra sweetness to the dessert menu with Grandma Sneed's old-fashioned tapioca pudding. It is the first and only time my mouth has watered at the sight of tapioca.
Coming from Virginia where Sneed worked the kitchen at Windows, and was also the smashing chef de success at The Frog and the Redneck, SugarToad makes him three-for-three with imaginative menu and unusual monikers. "Sugar toad" is the Chesapeake Bay crabbers' nickname for a blowfish that is 'ugly as a toad and sweet as sugar.' Beyond this trivia, ugly does not apply at SugarToad.
The interior designed by Dirk Lohan (grandson of Miles van der Rohe) is magnificent with Louvre-like geometric ceilings, candelabras and a rich spectrum of color leaning towards the deeper tones. Located in Naperville's Hotel Arista, SugarToad with its excellent menu and ambience is worth a drive from the city.