Fresh Meat deux
Jam – American Brunch
Chef: Jeffrey Mauro
937 N. Damen Ave.
($)
This sunny-side up café makes Jerry Suqi two-for-two in 2009 bringing sui generis cuisine, trendsetting décor and respected chefs to Wicker Park/Ukrainian Village. Jam, featuring Jeff Mauro of Charlie Trotter's, is a stroll of a commute for Suqi to Chickpea, his Palestinian food palace just around the corner, which also features a well-loved chef: Suqi's mom, Amni.
Jam is a bright space dedicated to breakfast, lunch and brunch with grand slams such as malted custard French toast with macerated stone fruit, lime leaf cream and crushed pink peppercorn for $10.
When I think "modestly priced menu," I think: plates of basic and common food. Not at Jam where $8 gets you cured trout quiche with fried capers and bagel chip panzanella. Or for $12 get pan roasted steak, poached eggs, rice grits, smoked tomato sauce and truffled pecorino. Even classics like biscuits and gravy get the no-extra cost upgrade at Jam with drop biscuits, cotechino sausage, shitake mushrooms and haricot verts. The eggs benedict comes with crisped pork belly. See what I'm saying?
With all the modern "cute" brunch places in this neighborhood, Jam on Damen truly has a "hey there, you must be hungry - please sit down" vibe. I love that vibe.
L2O – Modern Seafood
Chef: Laurent Gras
2300 N. Lincoln Park West
($$$$)
Laurent Gras, a jet set chef with a resume listing kitchens in Monaco, Nice, Paris and Tokyo partners French elegance and Japanese tradition creating a gastronomical delight at L2O. Yet, Gras insists on the simplicity of L2O saying, "We are a modern seafood house. Nothing more." And one of the Best New Restaurants in Chicago 2009.
French bread is baked everyday and the butter is churned in the (spotless) kitchen. Lobster drizzled in a reduction of chocolate, wild bing cherry and Worcester with a lattice of cloned asparagus, bathed in white chocolate emulsion and paired with chenin blanc is modern seafood, yet so much more. Sorry, Gras.
Gras designed a plate-sharing menu with six-course entree series for $90. I am thinking: romantic first-date alongside Lincoln Park. Or a sincere 'je suis désolé' dinner when you know you are in trouble tres grande.
As a finale, I recommend the cocoa "climax" ball with machi green tea macaroon or sorbet with marascapone chocolate raspberry, white chocolate flower and golden yuzu.
L2O is a bit extravagant for 2009 with tatami-style private rooms and geisha-trained servers. It is unique, exquisite and expensive dining - recession or no recession. With no apology. That's fine, with the first bite all is forgiven anyway.
Mercat a la Planxa – Spanish
Chef: Jose Garces
638 S. Michigan Avenue
($$$$)
In the South loop, Chef Jose Garces' nuevo Latin tapas restaurant gets diverse reviews - but not from us or Esquire magazine who listed them in their best new restaurant list for 2009.
At this Barcelona-inspired casa de comida en el Blackstone Hotel, you can taste nine excellent, authentic dishes for an entrée price (albeit a high entrée price) if you fill a table. Without sangria, Spanish martinis, beer and wine plate sharing will cost around $40 a person for these upscale Catalan creations. However, dishes such as langosta y vainilla with butter poached lobster, roasted garlic flan, basil and vanilla are worth it. As a Best New Restaurant Chicago 2009
The lighting, color and design have impeccable attention to Catalan detail. Gorgeous tables with wild designs of mismatched - but carefully curated - upholsteries blend at each table. A soft white sketching series on a mirrored wall creates a stunning optical illusion and the bold lighting makes for a dining experience that looks as great as it tastes.
With 72-hours notice you can order a platter of whole-roasted suckling pig with grilled green onions, herb-roasted fingerlings, espinacas a la catalana and rosemary white beans. For something on the fly, perhaps just a plate of braised rabbit agnolotti with rosemary, truffled chestnut puree and brandied cherries. On second thought, maybe just the baby squid in its own ink with angel hair pasta and saffron aioli - if you feel like something simple.
Mexique – French/Mexican
Chef: Carlos Gaytan
1529 W. Chicago Avenue
($$$)
"Cooking should be like a revolution," said Carlos Gaytan, Mexique's executive chef and owner. French-Mexican cuisine, somewhat undone in Chicago, has been perfected since the 1860's, when French occupiers of Mexico started running out of their own cooking supplies. The challenge, as Gaytan describes it, is to not overpower one style with the other.
Whatever he does, it works. Not a morsel remained on the heavy white plates (and there were plenty of them) at our table.
The trio sopes are divine, featuring petite rounds of escargots with chimichurri butter, shrimp provencal with avocado mousse and sweet plantains with young coconut and xico mole. The short ribs are so tender (almost cuddly) that the chewing is hardly necessary. The most exquisite entrée is the duck breast and leg confit, delicately glazed in tamarind-chipotle, slow-cooked in duck fat, orange and Negro Modelo beer, if it is available. Named as entrée of the year it tends to sell out quickly.
The light authentic desserts are not for skipping. Bites of coffee ice cream soaked in vodka, champagne and Mexique brand-cocoa send a delirious swirl of aroma to the head.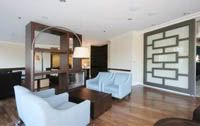 Perennial – Contemporary
Chef: Ryan Poli and Giuseppe Tentori
1800 N. Lincoln Avenue
($$$)
Betwixt Lincoln Park and Gold Coast, Perennial sits at the intersection of upwardly trendy and modestly sophisticated. This beautiful new eatery with house-filtered water, black truffle gnocchi starters, oversized huge chicken lollipops dipped in sesame soy reduction sauce, pork belly with mustard spaetzle and braised spinach cannelloni make chefs Ryan Poli and Giuseppe Tentori likely to hit perennial success in this neighborhood.
Chef de cuisine, Poli (formerly of Butter) and executive chef, Tentori, create an extraordinary menu at Perennial that is gaining citywide acclaim. Since childhood, Poli has been famous for meticulous attention to detail often lecturing his mother around the kitchen. What kid knew the proper temperature to store wine? Ryan Poli.
Perennial's gem is the menu. But with simple, delicate décor and a convivial team behind the scenes - what's not to like?