Even More Hot February Openings
Revolution Brewing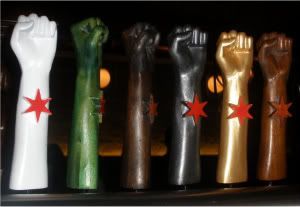 If you're heading to this new Logan Square brewpub, you might want to get there about two hours before you're actually hungry. Luckily, there is plenty of beer on tap to keep you occupied while you wait for a table, and if you're lucky you can snag one of the bar stools and order some apps to tide you over. Obviously, the main attraction here is the beer, brewed on-site and not available anywhere else. Six of the 25 brews are on tap at any given time...right now you can expect the Cross of Gold (golden ale), the Workingman Mild (with notes of toffee and caramel), the Iron Fist Pale Ale, the Anti-Hero IPA, the Bottom Up Belgian Wit (my favorite beer style) and the Willie, a heavy Scottish ale. Order a pint of your favorite, or create your own flight with $2 tasting portions.
As far as the food, offerings are definitely above average and much more creative than standard pub grub. I can't say I've seen bacon-fat popcorn--both fried in and covered with bacon--anywhere else, and the bruschettas go beyond the usual tomato and basil concoction with toppings like beets with goat cheese and duck confit with cremini mushrooms. For entrees, our waitress recommended the Flemish beef stew, and my cremini mushroom pizza with goat cheese bechamel, tarragon and truffle oil may make my regular rotation (if I can ever get a table again).
Prairie Fire
A sibling to Northbrook's Prairie Grass Cafe, Prairie Fire features many of the same menu items as the original but, like any younger sibling, aims to forge its own identity. With chefs Sarah Stegner and George Bumbaris splitting their time between both restaurants, Prairie Fire's focus is also on contemporary comfort food, with an emphasis on seasonal and locally sourced ingredients. Menu items that appear at both locations include the acclaimed top sirloin burger (with Amish blue cheese, beefsteak tomato, potato wedges and no bun), moussaka (braised lamb with golden-crusted bechamel) and several Bill Kurtis Tallgrass Beef entrees. The West Loop location also serves a spicy grilled goat sausage, a pork schnitzel, and offers a separate bar menu.
Leo's Coney Island
What's all the fuss over what is basically a Greek diner that also serves chili dogs? You may have to be from Michigan to fully understand the appeal, but greasy diner food is always satisfying, and Leo's does bring a whole new genre of food to the Southport Corridor. Once the crowds die down, stop in for diner faves like omelettes, pancakes, gyros, burgers, tuna melts and cheese fries. To get the full Coney experience, you have to order the Coney dog (topped with chili, onions and mustard) and the Greek salad with Leo's famous dressing. Born and raised in Chicagoland, I almost feel as if I'm betraying my roots by eating one of these "foreign" dogs, but then again, most of my favorite foods come from somewhere else. The verdict is still out on which dog reigns supreme, but when it comes to which city I'd rather call home, I'll take Chicago over Detroit any day.
New & Improved
These places are by no means new, but they both have recent announcements worth sharing (not to mention they are two of my personal favorites). First, Bin 36 has expanded its artisanal cheese program, and that's something this University of Wisconsin alum can get excited about. Eight new cheese flights (only $10 each until the end of this month) let cheeseheads explore an extensive range of cheddars, blues, gorgonzolas, chevres, mozzarellas and more. A "smelly cheese" flight caters to the extra adventurous. Other cheesy menu additions include gougeres (parmesan cheese puffs) with truffle oil and a pork loin with gorgonzola polenta. Still can't get enough? Cheese classes in the style of Bin's popular wine classes start in April.
When I lived two blocks from Spacca Napoli, I had to take every Chicago visitor there for their delectable Neapolitan-style pizza. Problem was, this often meant waiting an hour on a weekend night. Lucky for me, they have added around 50 seats and are now taking reservations on Fridays and Saturdays. The menu remains as mouthwatering as ever.